The bite on Lake Fork has been up and down for the past several weeks. I have been waiting to post a new Lake Fork fishing report until the bite stabilized, and it looks like it's finally starting to be more consistent.
We are starting to see some fish on deeper, main lake structure, and there will be many more heading that way. That will begin one of my favorite times of the year here on Lake Fork. Those fish will be feeding heavily on shad and yellow bass, and they can be caught on a variety of different baits including a jigging spoon, tail kicker, Flutter spoon, and my favorite, the Santone Slamma rig (umbrella rig).
Here are a few fish from yesterday's trip: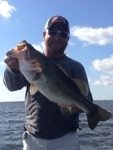 Look for these fish on main lake structure (points, humps, road beds, creek channel ledges) in 18-21 feet of water. You will normally see the sand bass (white bass) and the largemouths mixed together. These fish are normally in a feeding mood, so try various different techniques and you will usually find something that works. Timing is everything, so if you can't get them to bite, come back later and try them again. We usually catch between 15-25 largemouth and 60-80 sand bass per day this time of year.
There are still some shallow fish to be caught, so if the deep bite is not for you, you can fish wind blown main lake and secondary points and scratch out some nice fish. The grass in the upper ends of the lake still holds a good number of fish. The best baits for these fish are a Strike King Red Eye Shad, a Santone Got Five spinnerbait, and an LFT Magic Shad. A Strike King KVD 1.5 crankbait and a chatterbait will catch them well on the wind blown points as well.
The bite should continue to be good for the next few weeks. I have a couple of open dates in November and several in December if you're interested in coming out and getting in on the great action. The fishing at the power plant lakes will be good in December and January if you'd like to go fish for some prespawn and spawning fish.
If you have any questions, please feel free to use the comments section below or shoot me an email. I'm glad to help.